Halloween— according to season one of American Horror Story and the demons that whisper sweet nothings in my ear every 31st— is a magical night. So magical, in fact, it's rumored to be the time of year when the veil between the spiritual and physical world is thinnest. No matter where you lie on the spirituality spectrum—whether you don't much believe in ghosts, or you're among the crowd sending last minute SOS texts to your shroom dealer in order to sharpen your incorporeal vision— everyone enjoys a game of dress-up. Halloween may have come and gone, but dissociating from reality is here to stay through 2020. Continue reading for a catalogue of the spookiest alter egos and fits: from the underworld and above.
Elvira: Mistress of the Dark
Elvira is a sexy goth performer with a heart of gold. She saves her narrow-minded suburban town from their suppressed sexualities with the aid of deep plunging necklines and a jet black muffler hairstyle. Elvira is unapologetic about her body and the space she occupies, notwithstanding the foot of mangled fur perched atop her head. The Mistress of the Dark is a character that draws inspiration from drag queens, which adds up when you check the timeline: the film released in 1988, right as drag ballroom began to surface in the mainstream (for anyone sleeping on my articles, I discuss drag in my last published piece; check it out for full context). Elvira's Vegas outfit with the spider tassels reminds us that you can be half naked and tasteful as ever. I like to think of Elvira as the Kuromi to Dolly Parton's My Melody; the Shego to Kim; the Buttercup to Bubbles. To channel her, simply pull out any skin-tight black piece you own and tease your hair to the gods.
Buffy The Vampire Slayer
Buffy the Vampire Slayer is a gory telenovela type, set in 1990's California. Ultimately slated for a hefty seven seasons, the show became a runway for nearly a decade of fashion, teeming with feather lined cardigans, matching pastel sets, and plenty of trench coats. Some Buffy looks don't stray too far from today's trends: take Tara's cottagecore ensembles, for example. The breezy peasant tops and ballooned sleeves— a sharp contrast to the otherwise fitted micro tees and mini skirts— proved a versatility to the era that still remains today.
Our girl Buff is 5"2, give or take a few inches with the calf-length heeled boots, but is not to be underestimated: she'll take out a biker gang of vampires with one swift roundhouse kick, and look chic while doing it. Buffy prefers patrolling for vamps in local graveyards over long walks on the beach, a chief pastime most often spent dressed in slick, patent-leather looks. She matches Spike: a resident bad boy whose unsavory character is made clear from the getgo by his signature leather floor-length black duster. The unofficial uniform hints at a story arc to come later in the show—one that features Buffy, Spike, and BDSM. Leather shares a long subcultural history with the risqué combo of bondage, dominance, and sadomasochism. Traced back to the 1940s queer scenes, BDSM spawned a new atomic family unit of motorcycle gangs and leather bars. As we watch our devout heroine dive deeper into the world of BDSM, we catch glimpses of Buffy negotiating power systems not only through combat with the undead but also through coils of rope in the bedroom. To channel Buffy the Vampire Slayer, I'd scour Depop for some leather trenches or your local thrift for dainty 90's pieces. The good news is, most of us already own some rope…. 😉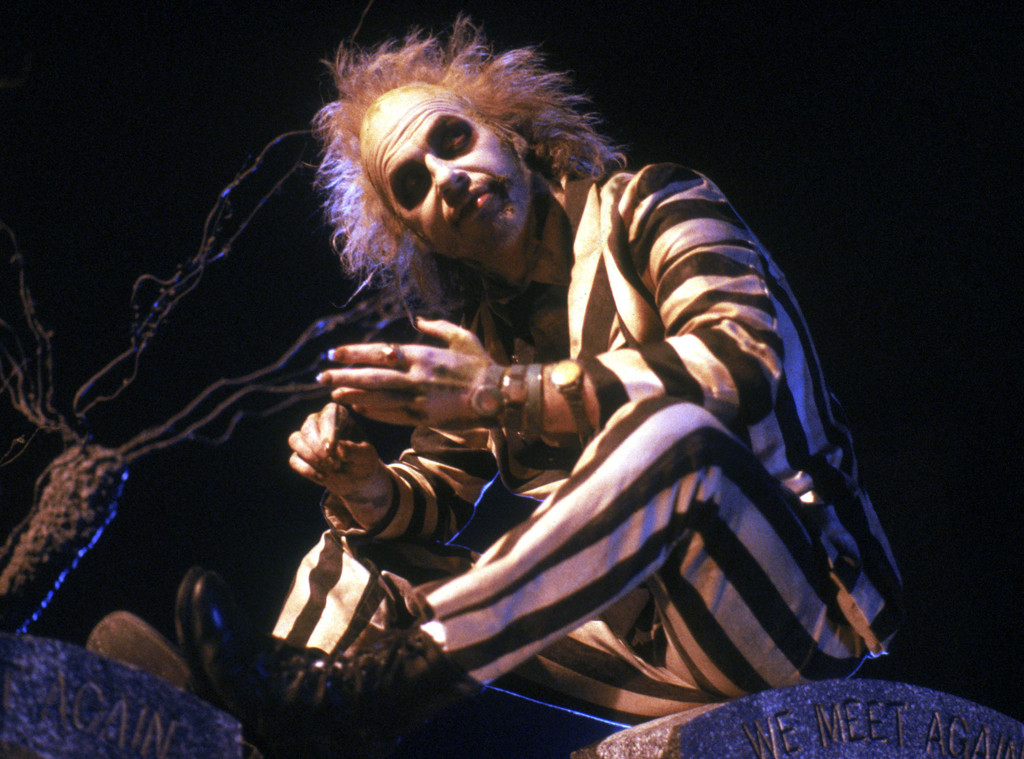 Beetlejuice
Walk into a Spirit Halloween and, after you make it past the furry section animal costumes, you'll find Beetlejuice's pantsuit. The set features brash vertical black and white stripes with a contrasting horizontal set of stripes on the sleeves. Its nod to a jail uniform is apropos, considering Beetlejuice is trapped in some penitentiary dimension, but also because Beetlejuice should likely be behind bars for a slew of sexual harassment cases. Though worn briefly in just one scene, the piece's reputation precedes it: even if you have yet to see the movie, you know the suit.
And in the off chance you haven't gotten around to watching Beetlejuice, I'm sure you didn't miss Robin Thicke's VMA's performance. The lines for nonconsensual sex, much like this suit, don't seem too blurry to me. Hmm.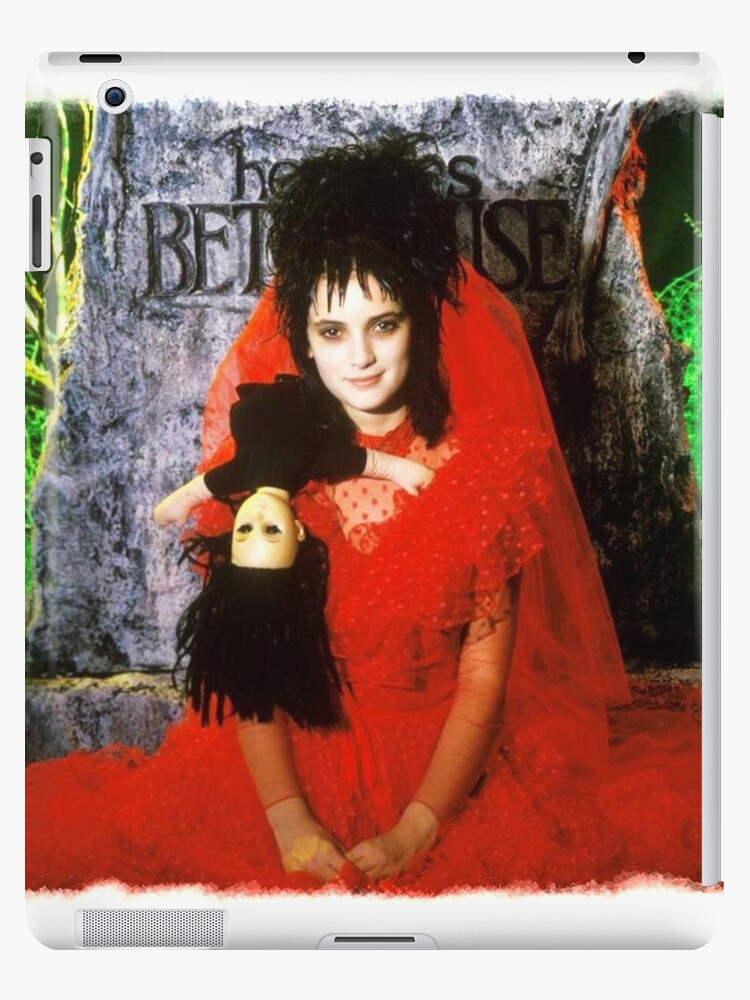 Lydia's cherry red wedding dress is loud and intentional: it's the only time she ventures outside of her usual head-to-toe black. Laden in tulle with sheer mesh underneath, the dress is paired with jagged bangs and an upside-down doll strewn across young Winona Ryder's shoulder. The fit reads more undead-Victorian or Dia de Los Muertos than wedding night, which makes complete sense when you remember she doesn't want to marry Beetlejuice, and the whole thing is against her will. Bella Hadid and the Weekend stepped out in this ensemble for Halloween not too long ago, though they broke up, so take that as you will. If Lydia were to remake the look today, I like to think she'd take inspiration from the true star of the movie's dining room scene— Catherine O'Hara's lone dramatic glove— and add some red T-Label gloves for full-mesh mode.
Best For Last: The Fifth Element
Designer Jean Paul Gaultier breathes life into a full-color palette in this late 90's sci-fi flick. His artistic outlook on the future grew into a self-fulfilled prophecy: as far as 2020 goes, Gaultier's predictions of biker shorts, exposed bustiers, and use of negative space all came to fruition. Trending names today— such as Orseund Iris and Dua Lipa— have taken a page from the designer's book; others, like Moschino's Jeremy Scott, reimagined the movie for the runway.
The Fifth Element's most salient character, Ruby Rhod, was speculated by many to be based on the late performer, Prince. His loud apparel— clad in cheetah print with a structured collar and scepter— telegraphed the very brazenness that makes him the star he is. The two main characters of the movie wear outfits anchored in pop culture, too: Bruce Willis' caged orange tank and Mila Jovovich's white caged jumpsuit are nods to Madonna's iconic Gaultier corset.
Known as the "enfant terrible" of the fashion industry, Gaultier's inflammatory themes of bondage and punk give pause to his reactionary critics. No matter: today, his brand is one of the most prominent in haute couture. This look is all about being one step ahead of everyone— so go out there and really experiment in making it your own. Take chances! The worst that can happen is someone calls you a terrible baby.